This Valentine's Day let's make a special dessert. Not the usually chocolate candies or brownies.  Brandied Blackberry Ice Cream has a fruity, sweet flavor–perfect for this holiday.  Heart-shaped Sugar Cookies complement the ice cream well.
I noticed blackberries in our neighborhood grocery store. That brought back memories of blackberry picking when I was growing up in Virginia in the summertime. We'd go to an old country farm in the Shenandoah Valley which was full of huge blackberry bushes in the fields. It was owned by the Glick family whose family I'm sure has lived on the farm since well before the Civil War.
Mom made blackberry pie,  jam and ice cream. Can't decide which is my favorite; they are all good.
This ice cream recipe uses a cooked custard. It is creamy and smooth. Using whole milk and half-and-half reduces the fat and calorie content. It's still tasty.
Brandied Blackberry Ice Cream

Print recipe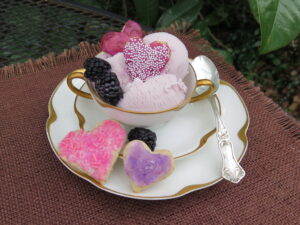 | | |
| --- | --- |
| Serves | 6 |
| Prep time | 30 minutes |
| Cook time | 4 hours |
| Total time | 4 hours, 30 minutes |
| Meal type | Dessert |
| Occasion | Valentines day |
Ingredients
1/2 cup water
1 cup sugar, divided
1 cup fresh blackberries
1 extra large egg
1 cup whole milk
2 cups half-and-half
1 teaspoon vanilla extract
1/4 cup blackberry flavored brandy
Directions
Step 1
Bring 1/2 cup water and 1/2 sugar to boil on stove. Boil gently until reduced to about 1/3 cup.
Step 2
Wash and sort blackberries. Save a few back for garnish. Add the blackberries to the syrup. Cook a few minutes, then remove from stove. Mash blackberries against side of pan. Place in refrigerator and chill for several hours to overnight.
Step 3
Take blackberries with syrup out of refrigerator. Process in food processor until smooth. Strain pulp through strainer, mashing so that as much of the pulp and juice is strained to bowl sitting below strainer, leaving seeds in strainer. This should equal about one cup. Set aside.
Step 4
Make the ice cream custard. In small mixing bowl, mix egg and 1/2 sugar on high speed until smooth and creamy. Set aside.
Step 5
Scald 1 cup whole milk in medium sauce pan on medium-high heat. Heat the milk until it steams but does not boil. Remove from stove.
Step 6
Very slowly, stream the milk into the egg/sugar mixture, stirring constantly. Return the custard to the saucepan.
Step 7
On low heat, preferably in double boiler, cook the custard until it thickens and coats back of spoon, stirring constantly.
Step 8
Remove from stove, add the reserved blackberry pulp. Chill in refrigerator several hours until cold.
Step 9
When ready to process in food processor, take custard out of refrigerator. Add the half-and-half, vanilla extract and blackberry flavored brandy.
Step 10
Place custard in bowl of ice cream maker. Process according to manufacturer's instructions until soft frozen. Remove from ice cream maker, and freeze for several more hours until the ice cream hardens.
Step 11
Garnish with reserved backberries and serve with Heart Shaped Sugar Cookies.