Winter is a good time to get out the crock pot and slow-cook a meal. Pulled pork for sandwiches is especially suited to this kind of cooking. The key is to use a cut of meat, boneless pork butt roast,  that has a lot of flavor to begin with. The moist heat and long cooking time tenderizes the pork, intensifies the flavor and the end result is that the pork just literally pulls apart. For this recipe, I added some Cajun-inspired spices to heat things up.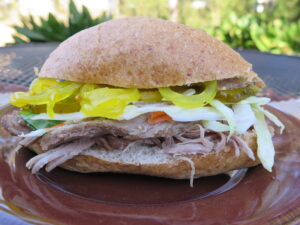 Cajun cuisine has evolved over the years and it increased in popularity in the 1980's due to the cooking of several Cajun chefs whose notoriety became well known around the world.  Paul Prudhomme,  John Folse and local T.V. personality, Justin Wilson, come to mind. Paul Prudhomme introduced the world to blackened red fish and other "hot Cajun dishes." Although part of a larger picture, it seems that the "spicy" is what stuck and is now synonymous with Cajun cooking.
For my pulled pork, I decided to continue this theme–using Cajun spices in the recipe. Most Cajun spice blends use cayenne pepper as the main ingredient, so you need to be cognizant of how much you add depending on how much you like spicy foods. Tony Chachere's Creole Seasoning is a brand that is familiar people here in Louisiana and is a household name for us. There are many, many spin-off's.
Tony Chachere's Creole Seasoning can be mail ordered or it may even be available locally. I've listed my own blend as well.
The key is to use a pork roast that benefits from slow, moist heat. Pork butt roast, shoulder roast or sirloin roast will work. I marinated the pork butt in a blend of Tony Chachere's Creole Seasoning, brown sugar, dried mustard, black pepper and thyme for an hour prior to cooking.
My husband mentioned that his boy scout troop added liquid Zatarain's  Shrimp and Crab Boil to their boiled pulled pork; I thought that sounded like a novel idea. Liquid crab and shrimp boil is a concentrated blend of spice essences including red pepper, bay, cloves, black pepper, thyme and marjoram. It goes well on meat and chicken as well as seafood. I added it  to the crock pot of pulled pork. A little goes a long way, just a Tablespoon for a quart of water, is all you need. It added a little zip to the pork and potatoes.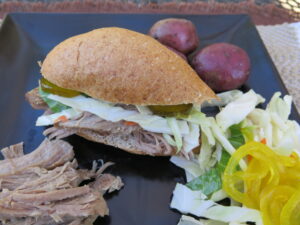 I prepared the pork roast two ways–in a crock pot and braised in the oven. I added liquid shrimp and crab boil to the pork cooked in the crock pot and added new red potatoes during the last hour. The potatoes soaked up the crab boil.
In the oven, I added a can of beer to the roasting ban, then covered the pan securely with foil. This version retained more of the spices. Both were delicious!
For serving, I added marinated pickled cabbage slaw and homemade bread and butter pickles and onions.
Homemade Cajun Seasoning Blend
If you don't have access to Tony Chachere's Creole Seasoning or any of the other blends on the supermarket shelves, blend your own:
1 tsp salt, 1/2 tsp  each of: red cayenne pepper,  paprika,  garlic powder, onion powder; and 1/4 ts powdered thyme and black pepper.
Cajun-Inspired Pulled Pork PoBoys

Print recipe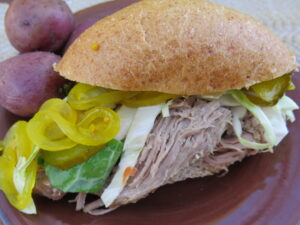 | | |
| --- | --- |
| Serves | 8 - 12 |
| Prep time | 1 hour |
| Cook time | 3 hours |
| Total time | 4 hours |
| Meal type | Main Dish |
Ingredients
1 tablespoon Tony's Chachere's Creole Seasoning
2 tablespoons brown sugar
1/2 teaspoon fine ground black pepper
1/2 teaspoon dried mustard powder
1/2 teaspoon powdered thyme
4 1/2 - 5 1/2lb boneless pork butt roast
1 - 2 tablespoon Zatarain's liquid conc. Shrimp and Crab Boil
2lb small new red potatoes
10oz can beer
8 - 12 whole wheat French Bread poboy buns
pickled cabbage slaw, bread and butter pickles with onions
Directions
Step 1
Mix Tony Chachere's Creole Seasoning, brown sugar, black pepper, dry mustard and thyme. Spread over pork roast and let marinade an hour.
Step 2
For the crock pot version, add pork roast to a large crock pot, cover with water and add 1 Tbsp of Zatarian's conc. liquid Shrimp and Crab Boil for each quart of water.
Step 3
Cook in covered crock pot on high for about 3 hours, until tender. After 2 hours, add 2 lb of small new red potatoes.
Step 4
For oven braised method, add pork roast to roasting pan along with 1 can beer. Cover tightly with foil. Cook for 30 minutes for each pound of meat, about 2 1/2 hours. Add more water if needed if the beer evaporates. Internal temperature should be 160 degrees.
Step 5
Remove pork roast from crock pot or oven, pull meat apart into bite size pieces. Serve on French bread Poboy buns with pickled cabbages slaw and bread and butter pickles with onions. Serve potatoes along side.