Based on the traditional New Orleans style Red Beans and Rice, the soup is a creamy variation.  I used ham rather than sausage, but the other ingredients are the similar as traditional red beans and rice. For soup, I added extra cooking water and chicken broth, and pureed the finished beans in a food processor, saving a few beans for garnish.
Red Bean Soup

Print recipe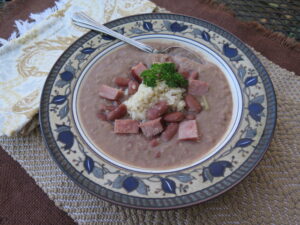 | | |
| --- | --- |
| Serves | 3-4 |
| Prep time | 15 minutes |
| Cook time | 3 hours |
| Total time | 3 hours, 15 minutes |
| Meal type | Soup |
Ingredients
8oz dried red kidney beans (1 heaping cup)
tablespoon vegetable oil
1 Medium onion (finely chopped)
1 stalk celery (finely diced)
2 cloves garlic (minced)
14.5oz can sodium reduced chicken broth
4oz ham (leave in one piece)
1 bay leaf
1 Sprg parsley
1 dash pepper
salt
Tabasco sauce
cooked rice
Directions
Step 1
Sort red beans, removing any foreign materials. Add beans to pot with 5 cups cold water.
Step 2
Bring to boil and boil 2 minutes. Turn heat off, and let beans soak for 1 hour.
Step 3
Drain beans in a colander, and rinse. Throw away the water that the beans were soaked in.
Step 4
Meanwhile, heat oil in skillet, add onion, celery and garlic. Cook on medium heat for 10 minutes until vegetables are wilted.
Step 5
Add beans to large pot with 3 1/2 cups water and chicken broth. Add sauteed vegetables, ham chunk, bay leaf and parsley. Bring to boil, then simmer for 1 1/2 hours to 2 hours until beans are tender.
Step 6
Remove beans from stove, remove ham and bay leaf from beans. Save about 1/2 cup for beans for garnish. Puree the rest of the beans in food processor. Alternately leave beans in pot and mash beans against side of cooking pot.
Step 7
Dice the ham and add the ham and reserved beans back to the thick and creamy soup. Adjust seasonings with salt and pepper as desired. Serve with cooked rice and Tabasco Sauce.