Winter is a great time to serve heart-warming soups. I love homemade potato soup. There are so many variations and ingredients a person can add.  This variation uses left-over baked potatoes. I usually bake a few extra and here's a way to use them.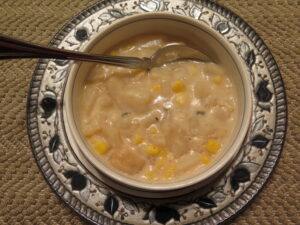 I used large Russet potatoes. They aren't mealy or waxy. I rub some chili flavored oil on the skin to add to the flavor prior to baking. Baked potatoes are  steamed during cooking, so poke slits along the potato with a fork or knife to let the steam escape.
For the soup, the potatoes can be peeled and mashed, or diced with the skin left on–more nutritious as the vitamins are under the skin, such as Vitamin C.
The soup starts with a white sauce. After onions and jalapeno peppers are sauteed in some margarine, I added flour, then low-fat milk and sodium-reduced chicken broth.
For added ingredients, I added frozen corn kernels, onions and jalapeno peppers. Some shrimp or diced ham would also be tasty.
When serving, I usually pass around sliced green onions, cheese and sour cream–like a loaded baked potato.
So, don't throw the left-over baked potatoes away. Here's a simple way to make a healthy, low-fat soup.