It's cold here in Louisiana! Certainly warm compared to the rest of the country; but cold for us. I look out on my backyard and many of my garden plants are droopy. The bird bath is frozen. But the rosemary is growing fine, it seems the cold weather has not bothered it. Indeed, it is putting out new growth and is very aromatic right now.
Here's a variation on a recipe I've cooked in the past for Lemon Veal. This recipe uses boneless, skinless chicken breasts instead. The chicken is marinated in the lemon juice, rosemary and lots of garlic for several hours at least, preferably overnight.  Marinating helps tenderize the chicken and the favors intensify. Plus, it's a low fat, low calorie way to prepare the chicken.
My neighbor grows lemons, and gave me one a couple of weeks ago. It is huge and the juice amounted to about a cup. The lemon was very mild and was perfect for this recipe. Enjoy!
Lemon Chicken with Rosemary and Garlic

Print recipe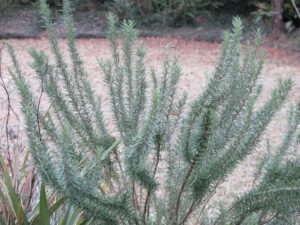 | | |
| --- | --- |
| Serves | 3 |
| Prep time | 2 hours, 15 minutes |
| Cook time | 15 minutes |
| Total time | 2 hours, 30 minutes |
| Meal type | Main Dish |
Ingredients
2-3 lemons (enough to make 3/4 cup juice)
6 cloves garlic, minced (about 2 Tablespoons)
1 heaped tablespoon fresh rosemary, minced (remove leaves from woody stems and mince)
1lb boneless, skinless chicken breasts (3 breasts)
To taste salt
To taste pepper
2 tablespoons olive oil
1/2 cup sodium-reduced chicken broth
Directions
Step 1
Juice enough lemons to make 3/4 cup lemon juice, straining out the seeds. Add to a zip lock bag large enough to hold the chicken.
Step 2
Add the minced garlic and rosemary to the zip lock bag.
Step 3
Clean the chicken breasts, pound to thin the breasts out. Add the the zip lock bag, secure the top, and place in refrigerator to marinate at least 2 hours; up to 12 hours. Occasionally turn chicken in the zip lock bag.
Step 4
When ready to cook, remove from zip lock bag, drain chicken, save marinate and strain out the garlic and rosemary. Lightly salt and pepper chicken.
Step 5
Heat olive oil to medium high in skillet, add chicken breasts, and as much strained garlic and rosemary as possible. Brown chicken breasts on both sides, and then turn down heat. Add chicken broth and 1/4 cup reserved lemon marinade and continue to cook until chicken is done.
Step 6
Serve with some of the broth.