It's Mardi Gras season here in Louisiana! That means it's time for King Cakes. If you live in Louisiana, it's easy to pick one up at the market or pastry store. Yum! However, homemade pastries are the best and a person can be really creative with fillings and types of cakes.
Homemade yeast bread/sweet rolls takes some time make and technique to perfect. So, I came up with a version using refrigerated dinner rolls. Even a person who doesn't bake very much can easily make this king cake. So there are no excuses not to bring the best king cake to the next office party.
This very easy and simple king cake recipe is made with convenience Pillsbury Crescent Dinner Rolls. This are actually baking powder-type rolls rather than a yeast bread. In any means, the result is delicious. I used Nutella Hazelnut and Cocoa spread for the filling, so you must be a chocolate lover to like this cake. I also had some Fig Spread (one could use Fig Preserves) in my refrigerator and added that too. It gave the filling a little sweetness and crunch.
For the icing, I made a powdered sugar glaze and decorated with purchased purple, green and gold sprinkles. However, a person could also use a purchased vanilla icing.
Don't forget to hide a tiny plastic doll or a dried bean somewhere in the cake. King cakes are brought to any sort of party or office event. It is customary that the person who gets the piece with the plastic doll brings or hosts the next party.
Easy Mardi King Cake with Nutella and Fig Spread

Print recipe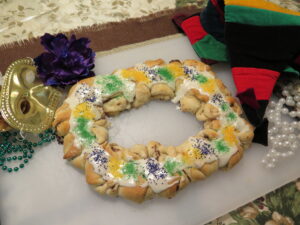 | | |
| --- | --- |
| Serves | 12-16 |
| Prep time | 30 minutes |
| Cook time | 12 minutes |
| Total time | 42 minutes |
| Occasion | Casual Party |
Ingredients
2 Cans refrigerated Pillsbury Grand Crescent Dinner Rolls (12 oz cans)
1/2 cup fig spread
1 cup Nutella Hazelnut and Cocoa Spread
1 cup prepared vanilla icing
1 cup powdered sugar (more if needed to thicken icing)
1/2 teaspoon vanilla extract
3 tablespoons milk (more if needed to thin icing)
2 tablespoons each color of purchased purple, green and gold (yellow) colored spinkles
1 tiny plastic purchased doll or a dried bean such as dried red kidney bean
Directions
Step 1
Preheat oven to 350 degrees. Lightly oil a large baking sheet or spray with non-stick oil.
Step 2
Unroll the Crescent roll dough out onto a flat surface, one can at a time. Each can should have 8 pieces of dough separated by perforations.
Step 3
Spread a thin spoonful of fig spread down the center and length of each triangle. Then place a spoonful of Nutello spread of on top of the fig spread along each triangle.
Step 4
Roll up each triangle by grabbing the ends of the two corners of the isosceles triangle of dough and rolling up to the the tip of the triangle; fold the two corners around to form sort of a ball.
Step 5
Please the rolled dough balls on the oiled baking pan in the shape of an oval, each piece tightly against the next.
Step 6
Bake in the 350 degree oven for 10-12 minutes until browned on top, Remove from oven and cool. Carefully transfer to serving splatter by inverting onto another baking sheet and then back onto platter.
Step 7
After the king cake cools ice the cake. First, thin 1 cup of prepared vanilla frosting with a small spoon of milk until it dribbles off a spoon held in the air. It should still be very thick. Or, make powdered sugar icing.
Step 8
Powdered sugar icing: mix powdered sugar, vanilla extract and 3 Tbsp milk in small bowl, beat with wire whip or spoon until smooth and silky. Add one very small spoonful of milk at a time to thin, if necessary. Do not add too much milk or the icing will become too thin. Add more powdered sugar if needed.
Step 9
Snead icing on top of king cake, immediately sprinkle with colored sugar sprinkles in alternating pattern. Work quickly, as icing dries rapidly and sprinkles will not adhere. Serve.