A Southern tradition on New Years Day is to eat blackeye peas and cabbage. The blackeye peas bring prosperity and luck. The cabbage, which reminds a person of green back dollars, brings wealth. My Cajun/Italian next door neighbor would share her boiled cabbage greens and blackeye peas if I said I wasn't cooking any on News Years Day. She made sure we were taken care of.
Blackeye peas, a legume, are very nutritious. They are essentially fat free, high in protein, B Vitamins, and most importantly they are high in fiber. There are many ways to cook blackeye peas, in addition to the traditional way of boiling.  I love vegetable salsas, and blackeye peas can be substituted in recipes that call for black beans. This recipe uses frozen blackeye peas. They cook quicker than dried beans and are lower in sodium than canned beans. Of course any of these beans-canned, dried or frozen–can be used.
Blackeye Pea Salsa

Print recipe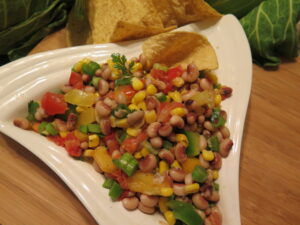 Ingredients
1lb frozen blackeye peas (3 cups)
8oz frozen cut corn (1/2 package - 1 1/2 cups)
1/8 teaspoon salt
4 tomatoes, chopped (combination or red, orange and yellow tomatoes, about 2 cups or 14 oz)
1/2 Medium green bell pepper, chopped (4 oz, 1/2 cup)
2 green onions with 1/2 of tops, sliced (1/4 cup)
3 tablespoons serrano pepper, finely chopped (1 oz, 1/2 pepper)
1 clove garlic, finely minced
2 tablespoons cilantro, finely chopped
2 tablespoons lime juice
2 tablespoons red wine vinegar
2 tablespoons olive oil
dash black pepper
1 bag tortilla corn chips
Directions
Step 1
Cook frozen blackeye peas: Add blackeye peas and 3 cups water to medium sauce pan. Add 1/8 tsp salt. Bring to boil, cover and reduce heat to medium, gently boiling. Boil for 30 minutes. Drain peas and set aside to cool.
Step 2
Cook frozen corn according to package directions. Or place frozen corn and 1/4 cup water in small microwavle bowl. Cover and microwave 5 minutes. Cool.
Step 3
Add drained blackeye peas, drained corn and all ingredients through cilantro to medium bowl. Mix to combine.
Step 4
Combine lime juice, red wine vinegar and olive oil. Pour over salsa, sprinkle on pepper. Stir to combine. Chill
Step 5
Serve with tortilla corn chips as an appetizer or salad.