This is an easy, Louisiana-style appetizer adapted from an old recipe.  Very tasty and and easy to make. My husband states, "I hope you'll make it again." I served it at a holiday party recently and it was well received.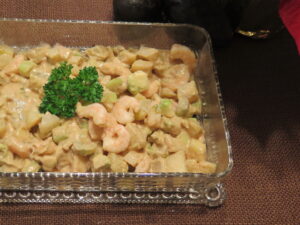 Here's the story. My mother-in-law was making her traditional pumpkin chiffon pies at Thanksgiving using an old, old cookbook. She stated that her mother,  in the 1940's, had gone to a ladies party and had liked the avocado appetizer so much that she asked the hostess for the recipe. To her surprise, the hostess mailed her the cookbook! So the cookbook, and it's companion volume, is well used over the years.
I saw the recipe and thought that this might be good with mirliton and shrimp added.  Boil the shrimp and cook the mirliton until tender and chop. Add it to the other ingredients. The sauce uses 2 ingredients. Simple enough.
Shrimp, Mirliton and Avocado Appetizer

Print recipe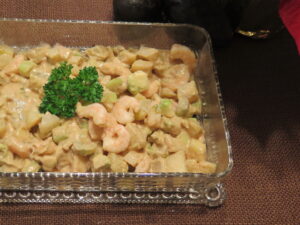 Ingredients
2 mirlitons
1lb small, frozen shrimp
2 lemons
1/2 teaspoon salt
2 ripe avocados (diced in bite size pieces)
1 rib celery (diced in bite size pieces)
2 green onions (sliced finely, using some of green tops)
1/2 cup Chili sauce
1/4 cup mayonnaise
parsley (for garnish)
Directions
Step 1
In pot, boil the mirlitons, covered in water, until just a la dente, about 30 - 45 minutes. Cool, peel and chop in bite size pieces. Set aside. The mirlitons have a very thin skin which should easily peel off.
Step 2
Defrost frozen shrimp (under running water). In another pot, add shrimp to boiling, lightly salted water (1/2 tsp salt.). Half the first lemon and squeeze juice into pot. Boil until shrimp is just pink, no more than 3 - 5 minutes. Remove from heat, drain and cool the shrimp. Set aside.
Step 3
Combine the avocado, celery, green onion and cooked, chopped mirliton in medium size non-metallic bowl. Sprinkle with juice of second lemon and mix.
Step 4
Combine the Chili sauce and mayonnaise and mix well. Pour over the vegetables.
Step 5
Add the cooled, cooked shrimp and mix to combine. Chill.
Step 6
Before serving, add parsley for garnish.