Sweet potatoes are a versatile food, indeed, and can be prepared in many ways. I found a clipping for sweet potato biscuits tucked away in my sack of saved ideas. This sounded promising and for flavor I added fresh chives and parsley that were growing in my garden. The results turned out surprising well, with just a very subtle taste of the herbs and sweet potatoes.
For a biscuit cutter, I could not find my biscuit cutter or any can with a 2″ diameter. The smallest diameter can that I could locate at the grocery store was a can of oysters (which my husband threw out after eating the oysters) and a can of Vienna sausages – this can had 2 3/8 " diameter. That worked, and the Vienna sausages complemented the biscuits.
Biscuits are a flaky, quick bread. The shortening is cut into the flour mixture to the size of small peas. When baked, it melts between the layers of flour making flaky, buttery layers. Biscuits should be baked in a hot oven, allowing the leavening agents – baking powder and soda to rise quickly. I wasn't sure of the effect of adding cup of mashed sweet potato. The biscuits rose well, and are perhaps a little denser than plain biscuits, but overall the result was good.
TIPS:  Two other tips for making biscuits are to all the have the ingredients at room temperature.  Secondly, use a good quality baking powder. The leavening component of baking powder settles over time, and stirring the can before measuring the baking powder helps.
Sweet Potato Buttermilk Biscuit

Print recipe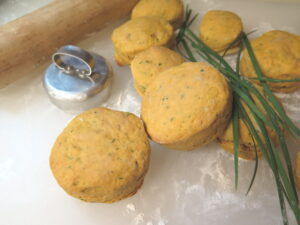 | | |
| --- | --- |
| Serves | 12 |
| Prep time | 15 minutes |
| Cook time | 10 minutes |
| Total time | 25 minutes |
| Meal type | Bread |
Ingredients
2.5 cups all-purpose flour
1 tablespoon baking powder (aluminum-free)
0.5 teaspoon baking soda
0.5 teaspoon salt
6 tablespoons butter (do not substitute margarine)
2 tablespoons chives (snipped with kitchen knife or minced finely)
2 tablespoons parsley (snipped with kitchen knife or minced finely)
1 cup mashed, cooked sweet potato
0.5 cup buttermilk (room temperature)
Additional butter
Directions
Step 1
Preheat oven to 400 degrees. Combine flour, baking powder, baking soda and salt and sift together. Place in bowl of food processer
Step 2
Cut the butter into about 6 pieces and place in food processor bowl along with flour. Pulse the mixture until the butter is the size of small peas. This only takes a couple of pulses.
Step 3
Add the chives, parsley, sweet potatoes and buttermilk. On continuous setting, mix until the sweet potatoes and buttermilk are combined in, continue to mix a 30 sec. longer.
Step 4
Turn the dough out onto a floured board. Knead the dough about 1 minute. Then let set on dough board for a few minutes.
Step 5
Flour top of dough if needed; roll out to 3/4 inch thick with rolling pin. Using a 2 to 2 1/2 inch biscuit cutter, with the cut edge floured, and cut the biscuits out. Placed on ungreased baking sheet
Step 6
Bake in 400 degree oven for 10 - 12 minutes.
Step 7
Remove from oven, rub a little additional butter on top of biscuits. Serve hot with ham, Vienna sausages or honey.