Here is my recipe for Shrimp Stuffed Mirlitons
Shrimp Stuffed Mirlitons

Print recipe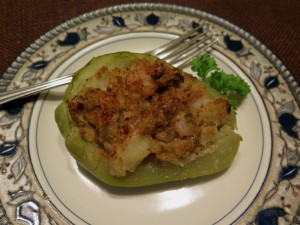 | | |
| --- | --- |
| Serves | 6-12 |
| Prep time | 1 hour, 30 minutes |
| Cook time | 45 minutes |
| Total time | 2 hours, 15 minutes |
| Meal type | Main Dish, Side Dish |
Ingredients
1 teaspoon salt
6 Each mirlitons (3 lb)
1 Medium onion (1/2 cup chopped)
1/2 Large bell pepper (1/2 cup chopped)
1 stalk celery (1/2 cup chopped)
1 clove garlic (minced)
2 tablespoons margarine
1lb peeled shrimp, frozen (150- 250 count)
1 tablespoon Worcestershire sauce
1 teaspoon garlic powder
1 teaspoon onion salt
dash black pepper
1 cup seasoned bread crumbs
2 drops Tabasco Sauce (optional)
paprika
Note
Mirlitons are a mild flavored vegetable found in Louisiana in the fall. The vegetables are also known as vegetable pears or chayote squash. They grow on vines up a trellis or spread over a garden.
Directions
Step 1
Heat a large pot of water to boiling, Add 1 tsp salt and the mirlitons. Boil 45 minutes to 1 hour until the centers are tender when pierced with a knife.
Step 2
Remove the mirlitons and drain. Cool so they can be handled. Cut lengthwise. Remove seed, and carefully scoop out most of the pulp, leaving a shell. Chop the pulp and set aside.
Step 3
While the mirlitons are boiling, finely chop the onion, bell pepper, celery and garlic clove using a food processor. A few pulses of a food processor will do this. Alternately, mince finely with a knife.
Step 4
Heat 1 Tbsp of margarine in a skillet. Add the onion mixture and saute. Turn the heat down to medium, cover and simmer for about 10 minutes. Add water if necessary so the vegetables don't burn. Remove from the skillet to a bowl and wipe the skillet out.
Step 5
Meanwhile, defrost the shrimp under running water. Drain in colander.
Step 6
Heat the second Tablespoon of margarine in skillet on high temperature, add the shrimp and saute. Add the Worcestershire sauce, garlic powder, onion salt, (Why use both fresh and powdered in the same recipe? To season the shrimp.), black pepper and a drop or two of Tabasco sauce (not more than 2 drops), if desired. Cook only a few minutes until the shrimp are pink and cooked through. Remove from heat.
Step 7
Add the sauteed shrimp, onion mixture and bread crumbs to the milition pump. Mix to combine.
Step 8
Heat the oven to 350 degrees. Oil a large casserole dish. Place spoons of mirliton/shrimp mixture back in the mirliton shells and place in casserole dish. Sprinkle with paprika. Bake 45 minutes until casserole is heated and browned on top.
Step 9
This serves 6 if used as a main dish or 12 if used as a side dish.