Many restaurants in the South include Bread Pudding as a dessert offering; it's a popular dessert.  It's sweet and rich, many times with accompanied with Rum Sauce. However, I have to admit that bread pudding has never been one of my favorite desserts. That is until I discovered a version by Paul Prudhomme, famous Cajun chef with a restaurant in the heart of the French Quarter in New Orleans.
His dessert recipe, which was published in Bon Appetite magazine in April 1984, will make you a bread pudding believer. It is not too sweet, has a proportion of milk and eggs to bread that doesn't make the pudding too soggy and the toasted pecans provide the perfect accent. The chef serves it with Lemon Sauce and Chantilly Cream.  I have served the recipe at many catering events and always received rave complements.
When my son mentioned that he and his college roommates made bread pudding this fall using fresh baked pumpkin pulp and rum, I decided to dig up my old Bon Appetite recipe.  Never to throw a good recipe away, I actually located the recipe and used it as a guide for making my son's version.  He didn't include quantities of ingredients, and they needing some adjusting for the pumpkin anyway. The result was great.
Tips on making the  recipe:
I'm sort of particular when making bread pudding. The only bread I use is French bread. And the more stale the bread, the better. Thus, I either purchase the discounted day old bread, or purchase the bread several days in advance. The dried, course French bread absorbs the milk and eggs better and it doesn't become soggy.
Toasting the pecans really intensifies the flavor. I never omit this step or omit the pecans.
The tart lemon sauce complements Prudhomme's bread pudding nicely. However, for the pumpkin spice flavor, I like rum sauce. According to my son's instructions, he just doused the rum on top of the pudding.
This can be served with whipped cream or ice cream (as pictured.)
Pumpkin Bread Pudding with Rum Sauce

Print recipe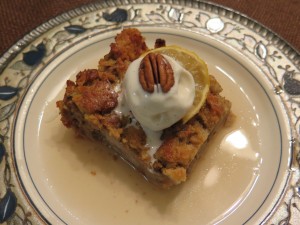 | | |
| --- | --- |
| Serves | 8 |
| Prep time | 45 minutes |
| Cook time | 1 hour |
| Total time | 1 hour, 45 minutes |
Ingredients
6 cups stale French bread, cubed (8 oz or about 1/2 loaf of French bread)
3/4 cups pecan pieces, chopped (6 oz)
1 cup fresh or canned pumpkin pulp (8 oz)
1 cup sugar
1 teaspoon vanilla
2 teaspoons pumpkin pie spice
1/4 cup margarine, melted and cooled
2 cups milk
pecan halves
lemon wedges
1/4 cup rum (or Rum Sauce)
whipped cream or ice cream
Directions
Step 1
Preheat the oven to 350 degrees. Oil a 3 quart casserole dish. Place the bread cubes into the casserole dish and smooth out.
Step 2
When the oven is hot, scatter the pecan pieces on a baking sheet. Toast in the oven for about 10 minutes until they start to brown slightly. Watch carefully, it's easy to burn the pecans.
Step 3
Add the eggs to a large mixer bowl and beat on high speed until they are light, frothy and lemony in color, about 3 to 5 minutes
Step 4
Reduce to medium speed and gradually add the sugar, vanilla and pumpkin pie spice.
Step 5
Then blend in the pumpkin and melted margarine.
Step 6
On low speed add the milk and mix to combine.
Step 7
Then mix in the pecans by hand.
Step 8
Pour the egg/milk mixture over the bread cubes. Let set for about 30 minutes until the milk is absorbed.
Step 9
Bake for 45 minutes to an hour until brown and puffy.
Step 10
Cut into serving pieces, place on serving plates and garnish with pecan halves and lemon wedges.
Step 11
Serve hot with rum sauce, (or sprinkle rum over the pudding) and either whipped cream or ice cream.