Persimmon Upside-Down Cake

Print recipe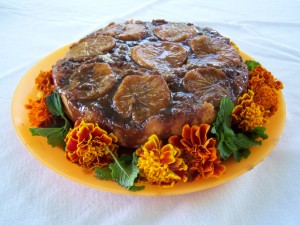 | | |
| --- | --- |
| Serves | 8 |
| Prep time | 20 minutes |
| Cook time | 40 minutes |
| Total time | 1 hour |
| Meal type | Dessert |
This recipe uses persimmons to create a new take on a traditional recipe: upside-down cake. Place the persimmons in the bottom of the cake pan, along with a brown sugar glaze. When baked, invert the pan, and the glazed persimmons make the icing.
Ingredients
2-3 firm persimmons (I used Tanenashi persimmons from my back yard, you could substitute Fuyu variety)
2 tablespoons margarine
1 cup dark brown sugar
1 large, very ripe persimmon (1/3 cup persimmon pulp)
4 tablespoons margarine
0.5 cup sugar
1 egg
1 teaspoon vanilla extract
1.5 cups self-rising flour
0.5 cup buttermilk
whip cream or ice cream
Note
A few weeks ago, Baton Rouge Green, a non-profit organization dedicated to urban forestry and use of trees in our community, had their annual tree sale. In addition, they had a cooking contest. Of course, the main ingredient needed to be a product of a Louisiana tree. What an opportunity to enter Persimmon Upside-Down Cake. It won third place! Not too bad for a novel and delicious cake.
Directions
Step 1
Pre-heat oven to 350 degrees. Oil bottom and sides of 8-inch springform pan.
Step 2
Slice the firm persimmons (with skin on) a scant ¼ inch thick, and arrange in bottom of spring-form pan.
Step 3
In small saucepan, melt (over medium heat) the 2 Tbsp margarine and 1 cup brown sugar, stirring constantly. It will bubble. Pour half of the sauce over the persimmons in the cake pan and smooth out with spoon. Reserve the remainder of the sauce.
Step 4
Peel remaining ripe persimmon, removing stem and any seeds. This should make 1/3 to 1/2 cup pulp. Mash the pump. Set aside.

Step 5
Place 4 Tbsp margarine in medium mixing bowl, and mix with electric mixer on high speed until soft. Add sugar and cream until fluffy.
Step 6
Add egg, persimmon pulp and vanilla extract and continue to beat until mixture is light and airy.
Step 7
Add self-rising flour alternately with buttermilk to mixing bowl on low speed. Begin and end with flour. Scrape down sides. Do not overmix. Pour batter over persimmons in cake pan.

Step 8
Bake 40 minutes, or until toothpick comes out clean. Cool a few minutes, carefully invert onto cake platter and remove sides of spring-form pan and then bottom.

Step 9
Reheat reserved glaze, and pour over cake.
Serve warm with whip cream or ice cream.