Roasted Pumpkin Seeds

Print recipe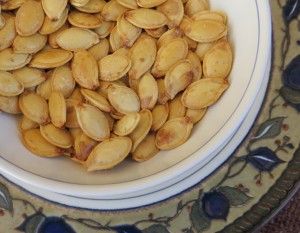 Ingredients
0.5 cup pumpkin seeds
1 teaspoon canola or sunflower seed oil
dash salt
Note
Use the seeds from an hollowed out pumpkin for this tasty treat. The recipe can easily be doubled. Baking times will vary, so keep an eye while the oven while baking. Drying the seeds overnight will decrease the baking time. Times may vary based on type of oil used or size of seeds. For a Cajun version, add 1/2 tsp. Cajun seasoning (or seasoned salt), 1/2 tsp Worcestershire sauce and 2 drops of Tabasco pepper sauce.
Directions
Step 1
Used pumpkin seeds from hollowed out pumpkin. After removing seeds from pumpkin, place in colander. Squeeze out all the attached pulp under running water. Then spread out in single layer on cookie sheet. Let the seeds dry overnight.
Step 2
Pre-heat oven to 300 degrees. Place seeds in small bowl. Add oil and stir until seeds are coated. Sprinkle on salt and stir to coat.
Step 3
Place seeds back on non-stick baking sheet in single layer. Place in oven and roast for 20 minutes until seeds begin to brown. Remove from baking sheet and let cool.