Soup in a Pumpkin

Print recipe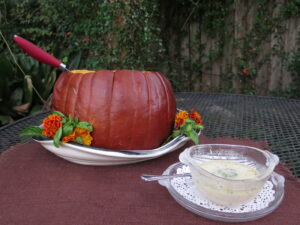 | | |
| --- | --- |
| Serves | 8-10 |
| Prep time | 2 hours |
| Cook time | 1 hour |
| Total time | 3 hours |
| From magazine | Parade Magazine, Washington Post, November 13, 1983 |
Ingredients
Medium pumpkin (6 to 7 lb)
3 tablespoons butter
1 Large yellow onion (chopped)
1 cup Italian seasoned bread crumbs
2 quarts chicken broth
8oz Swiss cheese (shredded (2 cups))
1 dash black pepper
1/2 teaspoon sage (ground)
1 cup half-and-half creamed
Additional parsley (for garnish)
2 tablespoons parsley (chopped)
Note
This family favorite is adapted from a recipe of Julia Child that appeared in Parade Magazine of the Washington Post. We have made it many times at Thanksgiving and Christmas. It makes a spectacular entry when properly cooked. We've had a few disasters, too. This year I could only locate a 16 lb pumpkin. I recommend keeping a look-out for a smaller, sweeter one.
Directions
Step 1
Preheat oven to 350 degrees. Be sure the pumpkin fits in your oven. Cut top off pumpkin and hollow out the seeds and pulp, rub inside, lid and cut edges with 1 Tbsp butter. Place pumpkin on baking sheet.
Step 2
In small skillet, melt remaining 2 Tbsp. butter. Add onion and cook over medium heat for 15 minutes until onion is tender and translucent. Do not brown onion, however, onion will not cook further in oven, so cook until raw taste of onions is gone.
Step 3
Add bread crumbs to onions, cook and stir several more minutes.
Step 4
in small pot, heat chicken broth until simmering. Pour into pumpkin to 1 inch from top. Add onions and breadcrumb mixture to the broth. Add the grated Swiss cheese, season with a few sprinkles of black pepper and sage.
Step 5
Place the top back on the pumpkin, leaving slightly ajar for steam to escape. Place pumpkin in oven and bake for 1 1/2 hours until pumpkin has just softened. Check pumpkin after 1 hour. Pumpkin will turn a golden, dark brown. You should smell the aroma of the pumpkin baking and it should be soft when top lip is pierced with a knife. However, over-cooking will result in the pumpkin collapsing.
Step 6
Very carefully, transfer pumpkin to serving platter. Heat half-and-half to simmering, and very gently stir into pumpkin soup, add parsley .
Step 7
At table, ladle soup into hot bowls, scraping off some of the flesh from inside the pumpkin as you do so. Add a sprig of parsley for garnish.